April 27th, 2018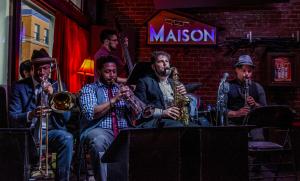 French Quarter Music Festival 2018
Bourbon Street
I had been to the festival in 2017 and loved it. The music at various stages throughout the Quarter plus the food vendors lined up around the perimeter of Jackson Square filled my being with sound and smell. This first time I was on my own with the sole intent of taking photos and was amply rewarded with several photos I was proud of and one which was entered and selected into a national competition. Needless to say I made it a point to come back in 2018. I convinced my wife and 2 friends of ours to join me. This then is the story of our music journey which began in New Orleans but continued onward to Memphis TN and wound up in Nashville TN.
The 4 of us arrived in New Orleans just as a major storm was sweeping across the south. Tornadoes, torrential rain and floods were creating havoc. This day the festival had to be cancelled. The last part of our drive was a white knuckle affair and once we arrived at the hotel we decided to get something to eat until we could check in. This was groups 1st taste of New Orleans cuisine and everyone was delighted. Eventually we got settled in our rooms and decided against any further driving and called Uber to drive us to Bourbon Street.
By the time we got there the rain hadn't stopped but forecast for the following day was going to be sunny and mild. Bourbon Street was busy and probably more so because of the festival being cancelled for the day. Rain hadn't dampened people's mood and the bands were playing to their audience getting everyone in the mood to sing along or get out onto the dance floor. One place we wanted to stop in was Pat O'Brien's Bar famous for its Hurricane drink but because of the rain it was packed and so we moved along the street ducking in and out of various bars and rain puddles staying to listen for a while before going onto the next and eventually fueling ourselves with red beans and rice or po'boys!
We found one spot that kept us entertained for the rest of the evening. They kept the music going by switching lead singers and played requests from the patrons. Finally around midnight we decided to call it a night and Uber. Streets were crowded with people and Uber had to cancel trying to find us so I hailed an empty taxi which turned out to be nearly the same cost as the Uber would have been.
The Festival
Being that the day before had cancelled we were determined to get an early start. Again we called Uber and that driver got us very close to Cafe Du Monde. The line to get in and sit at a table was already over a block long so we moved to the take out line and in about 10 minutes we were able to order our chicory coffee and beignets. Beignets are square shaped pieces of dough that is fried then coated with a powdery sugar. We walked up to the Mississippi riverfront and found benches with other folks who were similarly minded and enjoyed our powdery breakfast and the expansive view of the mighty and muddy Mississippi.
Now it was time to get out and explore what the festival had to offer. Buskers were on nearly every corner. They ranged from solo musicians to duets and small bands. No one disappointed! I recognized several of these musicians from last year's festival. As I later learned some have grown up before the eyes of festival goers for many years. Larger more established and renowned groups had stages to perform on. The music ranged from predominantly Jazz to Blues and some rock and roll and even a heavy metal band who called themselves appropriately enough "Raw Oyster Cult".
Speaking of Oysters it was time to take a stroll through Jackson Square and find something of interest for our taste buds. The four of us split up in search of our favorite dish from the 17 or more restaurants that were selling ample samples of their menu for prices ranging from $3 to $12.00. My favorite is Tujagues Restaurant who serves up a mean Brisket of Beef with a creamy horseradish sauce.
Once again we began putting steps on our step counters and went in and out of the many shops that offered the usual tourist items for sale along with some great art work from local artists. In between were more small groups of musicians. Most will have a pail to receive tips and people who stopped to listen or like yours truly take a photo would gladly leave some dollars for the pleasure to do so. Further into the quarter is the French Market where there is great food (I know, I know!) vendors selling dresses, jewelry, masks, antiques, books, local art and a little bit of everything. Once you and your wallet or purse have reached the end of the market you will be able to cross the street and arrive at Abita Beer Garden, try the Amber you'll be hooked for the rest of the festival.
At this point the huge building alongside of you is the New Orleans Jazz Museum at the Mint. Officially stopped operating as a branch of the U. S. Mint in 1909. The 2nd floor of the building has a remarkable display of instruments used by famous musicians from New Orleans history. Some great photos and also audio recordings. Not to be missed by music lovers especially lovers of Jazz.
After leaving the building and walking its perimeter you will come to the Popeyes Restaurant stage where there is always a great band playing. Moving ever onward you will come to a crowd favorite destination where you are greeted by the smell and sight, of platters of crawfish, sausage and corn on the cob. More food vendors are here in case crawfish is not your thing. At the end of the building is another stage which has more of an old time feel to it where people are sitting in lawn chairs and others are up dancing.
Its time now to make our way back to Jackson Square and up to the Riverwalk. Along the way we stopped at Pat O'Briens and were able to be seated in the Piano Bar. Two women took turns at the pianos and played and song requests from the audience. They were quite good and often humorous breaking the crowd up into bursts of laughter and applause. We enjoyed beer and their famous Hurricane drink before leaving and heading towards the Riverbank. The previous year I didn't realize there was more music to be listened to here or more food to be eaten (I know, I know) This time though there was a rocking band playing and had a very large audience which we were able to weave in and out of to get closer to the action. We stayed and listened for quite awhile then retraced our steps in the direction of Jackson Square where we ran into several characters that were elaborately made up to look like statues and other characters but would make subtle movements acknowledging tips or having your photo taken with them.

Frenchmen Street
As we had been back and forth in the Quarter and the festival would be closing in a few hours we made our way over to Frenchmen Street and started our bar crawl and eventually wound up at Maison's a favorite of mine from previous trips. Since we had pretty much had our fill of food we opted for appetizers and drinks and got a table to enjoy a band called Junction that was playing some Jazz standards. I shot my favorite photo of the trip while band was playing. If forced to make a choice between Frenchmen Street or Bourbon Street I would choose Frenchmen Street. As a friend suggested to me these are the up and coming artists who are not as well-known as their counterparts and though the atmosphere is lively it is a bit less frenetic. Bourbon Street is loud and noisy in a good way, you'll sing along with the band and other visitors while Frenchmen Street offers a more casual listening experience. In fact you will find this is the street local residents prefer.

After The Festival
The day after the festival we took a fascinating tour of the St Louis Cemetery #1 and learned a lot from our tour guide who was very knowledgeable regarding history of the cemetery as well as of New Orleans itself. Afterwards we went into the oldest bar in New Orleans Jean Lafittes Blacksmith Shop. Originally a Blacksmith shop now a bar. Much of the original construction is still evident and is a little bit dark in areas which contributes to the overall atmosphere and probably has also figured into stories of it being haunted. Again after a few beers which across the city all seem to be $6.00 for a 12 oz draft we drove to the Jean Lafiitte National Park and Refuge we arrived near 5:00 pm and learned that is when the park closed its gates. Park Rangers said we could park on the highway and still visit so we did just that and began a mile long walk on a combination of dirt paths and wooden bridges over bayous. We spotted several alligators particularly when our footsteps on a bridge would bring them out from under it. All in all it was a wonderful way to end the day and our visit to the festival. The trip continued however onto Memphis TN and finally to Nashville. More about that in my next blog.